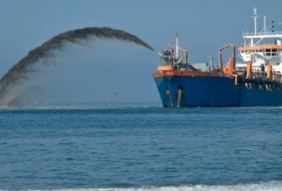 Posted on October 30, 2015
By Manoj Venunath, IHS Maritime 360
A first attempt by an Indian port to undertake channel deepening work on annuity – deferred payment – basis has failed.
The board of trustees of state-owned Mormugao Port rejected the only tender, which had been submitted by a consortium of Van Oord Dredging and Marine Contracting and local firm JSW Group.
"The board of trustees decided on Wednesday to reject the only price bid submitted by the Van Oord-JSW consortium because the annuity amount quoted was 17.56% more than the budget," a Mormugao port representative told IHS Maritime, adding that the tender was consequently scrapped.
READ FULL ARTICLE HERE