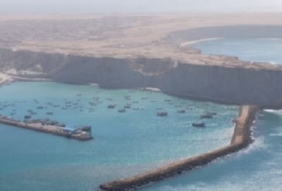 Posted on April 14, 2016
On Saturday, Iran's official oil and gas media outlet, Shana, announced that India intends to spend $20 billion on developing energy and petrochem projects at the port of Chabahar in southeastern Iran, the closest deepwater Iranian port to the subcontinent.
The Indian minister of petroleum and natural gas, Dharmendra Pradhan, said after a meeting with Iranian Minister of Petroleum Bijan Zangeneh that "India is prepared to develop Chabahar Port." Pradhan visited Tehran along with a group of Indian oil and gas firms to discuss cooperation with their Iranian counterparts.
The announcement would dramatically increase the scale of planned Indian investment in Chabahar, and would add to a long legacy of involvement: India provided major support for the port's initial development in the early 2000s, intending to bypass Pakistan on logistics routes to Central Asia and to counter a Chinese port initiative at Gwadar. Chabahar is so important to India that it resumed construction at the port in 2012, despite international sanctions on Iran and objections from the United States.
READ FULL ARTICLE HERE