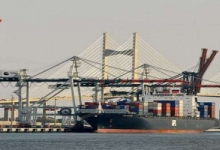 Posted on July 27, 2015
By Nate Monroe, jacksonville.com
JaxPort officials have quietly crafted a scaled-back option to dredge the St. Johns River that comes with a smaller price tag but would also fall short of delivering a deeper channel to the TraPac terminal, Jacksonville's best window to Asian trade and the mega ships it will bring.
The trimmed option — according to public records and confirmed by JaxPort officials last week — would reduce the original 13-mile dredge to 11 miles, slashing the overall cost from more than $700 million to about $511 million, which JaxPort officials believe could make it a more enticing investment as they lobby the federal government to share the cost.
But the proposal also adds layers of uncertainties: Tenants, including TraPac, would have to be shuffled between terminals, meaning JaxPort could face a sensitive and potentially difficult series of agreements and balancing acts.
READ FULL ARTICLE HERE