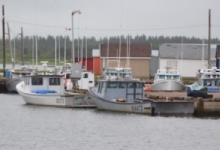 Posted on August 10, 2015
Major improvements are coming to Tignish Harbour, including dredging and realigning the channel, installing shore protection, replacing a wharf and constructing a new marginal wharf.
Tignish harbour is home port to 82 vessels, which primarily land herring, lobster, snow crab, oyster and tuna.
Landings in 2013 were valued at more than $17 million.
"The Tignish wharf is one of the busiest in-shore harbours in Atlantic Canada and these projects are very important for our harbour activities," said Russell Gallant, manager of Judes Point/Tignish Harbour Authority. "The new wharf structures will help address overcrowding at the wharf. The channel dredging and installation of armour stone will help reduce sedimentation and provide better access for fishermen to our inland wharf structures at Jude's Point."
Funding for the work will come through the federal government's investments in small craft harbours.
Tignish is one of 23 harbours in Prince Edward Island to benefit from the funding.
In the last six years, $2.4 million has been invested at Tignish Harbour.