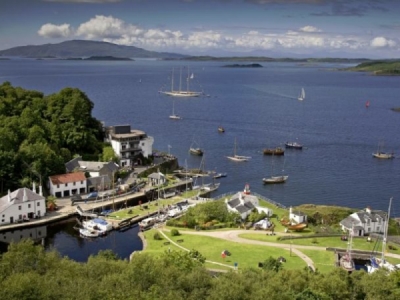 The Crinan Canal: "Britain's most beautiful shortcut"
Posted on November 10, 2020
As part of a major investment, the first phase of major improvement works along the Crinan Canal in Scotland will start this winter writes Dag Pike.
This £3.7 million investment in the Crinan Canal is part of Scottish Canals' Asset Management Strategy which prioritises improvements on all canal infrastructure in Scotland, based on condition and risk. In addition to this work on the Crinan Canal, improvement work will also take place in the Caledonian Canal which links the east and west coasts of Scotland.
The Crinan Canal provides a short cut from the Clyde to the West Coast allowing vessels to avoid the trip around the Mull of Kintyre and the exposed North Channel. Peter Robinson, the Head of Engineering at Scottish Canals commented, "This year sees the first phase in an anticipated three-year programme of works on the Crinan Canal. The focus of the £3.7 million capital investment will allow us to improve the lock gates on the eastern section of the canal at Ardrishaig, safeguarding their operation for another 40 to 50 years. We're not only commencing lock gate replacement works this winter, we're also investing in dredging. We will be undertaking the survey and design works on the western section to secure the long-term operation of the canal. This will ensure Britain's most beautiful shortcut can be enjoyed by all for years to come."
AmcoGiffen will undertake the works between November 2020 and March 2021, and this will require the full closure of the canal. The whole of the eastern section of the Canal, from Lock 8 down to the Sea Lock 1 at Ardrishaig will be drained down to allow work on the replacing and repair of lock gates to be carried out at one time. The replacement of lock gates will take place at Locks 1 through to 4 and there will also be improvement work to some of the bridges across the canal
In the New Year, a programme of dredging will be undertaken at Ardrishaig Harbour and at critical locations along the canal.
Source: maritimejournal