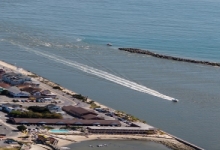 Posted on June 19, 2015
About one month after state and local officials sent a letter to the federal Army Corps of Engineers requesting immediate assistance with the dredging and deepening of the Ocean City Inlet, it appears short-term relief is on its way while a longer-term remedy is considered.
The continued shoaling of the Inlet has negatively affected commercial and recreational fishing and boating activities out of Maryland's only Atlantic port for many years. The Inlet continually fills in through natural and man-made processes and is often unpassable, particularly during low tide.
READ FULL ARTICLE HERE