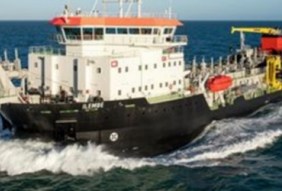 Posted on December 14, 2015
On 8 December the 5,500m3 trailing suction hopper dredger Ilembe departed from IHC's shipyard in Kinderdijk, The Netherlands on its way to its homeport at Durban. The dredger is due to arrive there around 12 January.
Ilembe will be the largest dredging vessel of its kind operating in South Africa and will be deployed to work mainly in the international seaports of South Africa, but may also be deployed elsewhere on the continent.