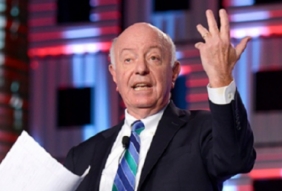 Nariman Behravesh
Posted on March 3, 2016
By Greg Knowler, JOC.com
Global economic growth will be stuck in low gear this year at around 2.5 percent, continuing the weak GDP that has put the brakes on trade for the past few years, IHS Chief Economist Nariman Behravesh told the 2016 TPM Conference in Long Beach on Monday.
Trade will not recover this year, and when it does in the next two years it will not recover to the rates seen in the 1990s and 2000s when the growth was double that of GDP. Behravesh said two factors are driving this slowdown, and they are cyclical and structural.
"The cyclical drivers of weaker trade growth account for 70 percent of the drop. An extended period of sluggish growth is part of the answer, and, particularly, it is the Chinese industrial recession that plays a large part," he said.
READ FULL ARTICLE HERE