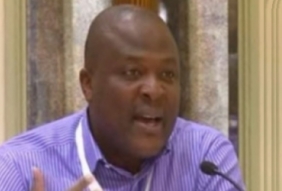 Ibrahim Mahama
Posted on September 16, 2015
After dredging 3 kilometres of the choked Odaw River, Engineers and Planners Company Limited has returned some of the equipment from the Local Government Ministry it used for the work.
The decision by government to release the equipment to the Company generated some public outcry because it belonged to the younger brother of President Mahama, Ibrahim Mahama.
Ibrahim Mahama subsequently clarified that his company was only helping the state, as he released experts from his company who had the technical know-how to use the equipment.
Engineers and Planners returned 20 Man Tipper trucks, 4 Komatsu dozers, 3 Komatsu excavators, 3 Komatsu wheel dozers and 2 HBM NOBAS motor graders.
Ibrahim Mahama noted that his company "comprehensively insured all the equipment for the period of the exercise."
The choked nature of the Odaw River, leading into the Korle Lagoon, contributed significantly to the June 3 flooding, which triggered the disaster that killed more than 150 people on that day.
The Director of Urban Roads, Abbas Aworlu explained that "the Odaw River is a main outfall for a lot of drainage systems within that part of Accra. Once the Odaw River is full, all the other side drains that connect into it will not go and obviously that creates a problem."
"If you look at the Odaw River, from Avenor towards the Lagoon, the size of the drain is 45 meters by 4.5 meters deep. Unfortunately, today when we go in there, we don't even have up to a meter because it has been filled with other materials," he explained.
President John Dramani Mahama subsequently released a $50 million to support victims of the flood and fire.
He added that the amount was also for humanitarian operations, repair of damaged public infrastructure, desilting and clearing of waterways.