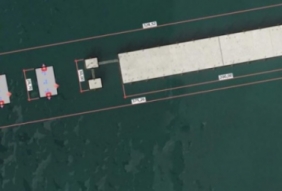 Posted on November 5, 2015
In order to improve cruises' traffic capacity and docking manoeuvre in Ibiza port, south pier extension works started this week at Botafoc docks.
Adopted solution has been the construction of three dolphin docks that will allow extending docking length until 328 and 375, in both sides of the jetty thus allowing two vessels up to 335 meters in length in one side and 290 meters in length in the other side to dock simultaneously.
The project also includes building a dolphin dock and two double reinforced concrete docks really much bigger, supported on 2 meters in diameter piles.
This structural design will let the optimization of the quantities of steel and cast concrete to be used and will also redound in an optimization of the cost and execution time.
From sustainable environment point of view, it is a fitting solution because facilitate water port renovation.