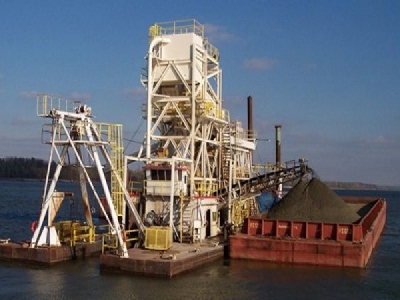 Hunter Marine Sand Dredge
Posted on October 6, 2016
By Ashley Herriman, WorkBoat
Nashville, Tenn.-based Hunter Marine has agreed to sell its Hunter Sand & Gravel and Hunter Marine Terminal divisions to Pine Bluff Materials Co. LLC. The company will retain its Hunter Marine Transport business unit.
Hunter Sand & Gravel produces aggregate used by the construction industry for concrete, asphalt and masonry projects in the mid‐South. The company owns and operates multiple sand dredges on the lower Ohio River and distribution terminals in Henderson, Ky., Ledbetter, Ky., and Shawneetown, Ill.
Hunter Marine Terminal is a 30‐acre covered and bulk storage and liquid tank farm facility located at Cumberland River mile marker 175 in West Nashville. According to Hunter Marine, the terminal and commercial port handles millions of tons of dry and liquid cargo each year.
The two divisions to be sold employ 50 equipment operators and administrators. All will be retained by Pine Bluff Materials, which also is based in Nashville.
Hunter Marine Transport will be unaffected by the sale. The company operates more than a dozen towing vessels and specializes in liquid and dry cargo barge transportation on the Ohio, Mississippi, Illinois, Cumberland and Tennessee rivers. Its corporate office is based in Nashville and includes a vessel operations center in Paducah, Ky., and has barge mooring fleets in both Nashville and Clarksville, Tenn.
"Hunter Marine and Pine Bluff are both family‐owned companies with similar company cultures and deep roots in the sand dredging and marine transportation businesses," said Hunter Marine founder and President Ron Hunter. "We've known and worked with Pine Bluff for years, and we hold the company's owners and management team in great esteem. Selling our sand and gravel business to Pine Bluff provides us with an ideal opportunity to streamline our business operations and focus on marine transportation."
Pine Bluff Materials' parent company, Pine Bluff Sand & Gravel Co. ,was founded in 1913 as a sand and dredging company and it continues to be a core business.
"This was a great opportunity to increase our dredging capacity and distribution locations as well as add a Nashville‐based marine terminal to the Pine Bluff family of companies," said Pine Bluff President and CEO Brian McGeorge.
As part of the agreement, the companies will enter into a long‐term barge towing contract under which Hunter will transport sand and aggregates for Pine Bluff on the Cumberland and Ohio rivers.
Source: WorkBoat