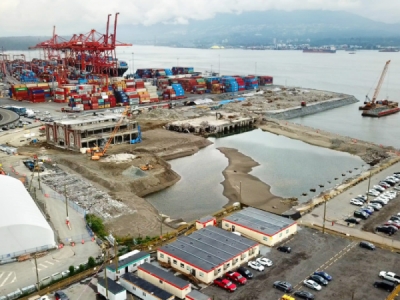 Vancouver Fraser Port Authority
Posted on November 12, 2020
Not long after the COVID-19 pandemic hit, our nation experienced economic turbulence and employment loss. And although these substantial challenges can't be overcome overnight, many organizations are working towards economic recovery behind the scenes.
The Port of Vancouver, Canada's largest port, is part of a massive supply chain system that includes road and rail infrastructure, connecting port terminals in BC to the rest of Canada. This network helps keep our economy moving and ensures products coming to and from the port make their way across Canada. It's how vehicles get from the port to dealerships, Canadian farmer's products get to consumers around the world, and even how coffee beans get to your favourite café.
The Vancouver Fraser Port Authority plays a key role in the strength of Canada's economy; it's responsible for overseeing the federal lands and waters that make up the Port of Vancouver, with a mandate to enable Canada's trade objectives while considering surrounding communities and protecting the environment.
In partnership with industry and government partners, which include municipalities, railways, Transport Canada, and the BC Ministry of Transportation and Infrastructure, the port authority is delivering road, rail, and port terminal infrastructure projects across the Lower Mainland. These projects support Canadian trade and improve the movement of goods to and from the Port of Vancouver while reducing the impacts of trade on local communities.
The projects currently underway are worth a combined total of over $1 billion and will support local job creation, investments in community amenities and programs, and help bolster BC's economy, both now and in the future.
Here are a few examples.
Road and rail improvements
There are currently 10 road and rail improvement projects underway across the region, with a focus on constructing overpasses and underpasses to separate roadways and rail lines and make improvements to roadways on port lands that will make trucking and train movement easier.
In Pitt Meadows, there are plans for two rail crossing projects — an overpass along Kennedy Road and an underpass along Harris Road — to separate the road and railway. A $145 million investment in Burnaby for the creation of an overpass over the rail line by extending Holdom Avenue is also proposed to safely support trade growth and improve community access for people driving, cycling, and walking.
When completed, these projects will reduce transportation bottlenecks, increase trade efficiency, and ultimately improve safety for local communities.
Terminal expansion
There has been an increased international demand in recent years for natural resources from Canada that come from farming, logging, and mining, among other industries. Canadian consumer demand has also increased the volume of imports coming through the Port of Vancouver from Asia into Canada. Many of these products are coming to and flowing out of Canada in containers.
The use of containers to transport goods has been growing for decades because they are standardized around the world. Due to increasing demand, Canada's west coast ports are expected to run out of capacity to import and export goods in shipping containers by the mid-2020s. The port authority is helping prepare the Port of Vancouver for the anticipated increase in containerized cargo, which is expected to continue well into the future.
To address the anticipated container terminal constraint, the port authority works with terminal operators to increase the capacity and efficiency of existing container terminals, build new terminals, and convert existing under-utilized terminals to handle containers.
By 2022, the Centerm Expansion Project and South Shore Access Project is expected to be complete in Burrard Inlet, helping meet the demand for shipped containers in the near-term. The project will also add land to an existing terminal. "This will mean we can get a 60% increase in capacity for containers to move through the terminal, while only having to add 15% more land to the terminal," explains Cliff Stewart, vice president of infrastructure at the Vancouver Fraser PortAuthority.
"We anticipate that, once complete, there will be up to 900 new jobs for terminal operations related to the expansion, and that the increase in our ability as a region to move containers will also create up to 1,900 new jobs in fields such as logistics, supply chain, transloading, and distribution."
The Roberts Bank Terminal 2 Project, a proposed marine container terminal in Delta, could help Canada meet its trade objectives through to the late 2030s. If approved, it would inject more than $2 billion of private investment into BC's economy.
During construction, there would be an estimated 12,700 person-years worth of work created over a six-year period. Once the terminal becomes operational, there would be an estimated 12,400 person-years of work each year. The project would also result in an estimated $300 million in tax revenues during construction, and $205 million in tax revenue each year once the terminal is operational, to all three levels of government.
These developments allow the port authority to contribute to thriving communities while helping rebuild BC's economy. Each year, the Vancouver Fraser Port Authority reinvests roughly $80 million into infrastructure that will improve the ability for trade to flow smoothly to and from its destinations. Its operations are not financed by tax dollars — revenues come from terminal and tenant leases, harbour dues, and fees charged to shipping companies at the port.
Source: dailyhive