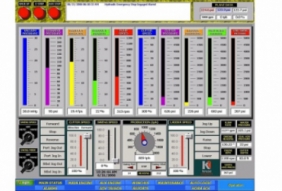 Posted on February 4, 2016
By Jay Wise, Kruseintegration
This company is a solicitation for advertising
How do you know if your dredge is really automated?
Through the many years of automation consulting in the dredging industry, I often hear the phrase "my dredge is automated." When I inquire as to what they actually have, I get responses such as, we have a production meter or we have DredgePack ™ on our dredge. Some even think that simply having a PLC (programmable logic controller) on the dredge somewhere constitutes dredge automation. These fallacies of automation stem from the lack of real world automation examples in this industry or its workforce as compared to advanced industries such as chemical or automotive.
Monitor and Control With Improved Efficiency
While it is true that automation can come in many forms throughout all industries, the typical automated system would actually monitor and control certain features with safety interlocks and improved efficiency over manual operation. A completely automated dredge would have a PLC connected to all dredge system transmitters such as discharge pressure, suction pressure, product flow, product density, hydraulic levels, temperatures and pressures as well as engine parameters and GPS software.
READ FULL ARTICLE HERE