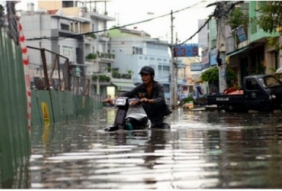 Posted on September 9, 2015
Ho Chi Minh City authorities have decided to spend VND950 billion (US$41.8 million) building three large-scale reservoirs in the most flood-prone areas of three districts.
With a total area of 100ha, the three proposed reservoirs are expected to accumulate tens of millions of cubic meters of water and resolve the flooding problem in District 4, Tan Binh District, and Thu Duc District.
The largest will be the VND600 billion ($26.4 million) Go Dua reservoir measuring 95 hectares in area in Thu Duc, followed by the VND300 billion ($13.2 million) Khanh Hoi facility covering 4.8 hectares in District 4, and the VND50 billion ($2.2 million) 0.4ha Bau Cat lake in Tan Binh.
The construction plan, which will be executed in 2016-20, will come along with other measures like canal dredging, better sewer system installation, and the building of new sewage plants.
What is more, the city will also expand some existing artificial lakes in many parks into reservoirs for water regulation.
Local authorities have also identified 103 other heavily-flooded spots, mainly in Binh Chanh District, Nha Be District, and District 9, to set up smaller-scale regulating reservoirs to prevent flooding.
However, these are the projects that will be implemented in the distant future.
Some experts told local news website VnExpress that the current solution to raise the level of roadbeds is merely short-lived as it just moves inundation from one place to another.
As a result, if implemented uniformly the construction of the new reservoirs and the upgrade of the existing lakes will help store up to tens of millions of cubic meter of rainwater and cut flooding by 30 percent, VnExpress reported.
In August, Prime Minister Nguyen Tan Dung asked the southern city to solve the flooding problem in the next five years with a focus on rectifying the situation in the downtown area.
The head of the government also directed the municipal authorities to closely manage the construction of reservoirs for water retention, boost the dredging of canals, and restrict the extraction of groundwater to avoid subsidence risks.
According to officials, the total loans granted to prevent flooding in Ho Chi Minh City had topped VND25 trillion ($1.1 billion) by the end of 2014.
This means that in the next five years, the city will pay the principal and interest of about VND4.25 trillion ($187 million) per annum.