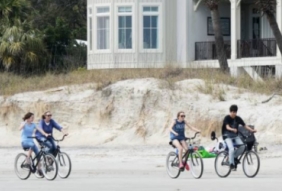 Posted on October 26, 2015
By Zach Murdock, The Island Packet
Hilton Head Island's planned beach renourishment will begin in February and finish just in time to open the beaches for Memorial Day weekend and the busy summer tourist season, according to town engineers.
The $20.7 million project will place more than 2 million cubic yards of new sand on four segments of the island's iconic beaches to restore nearly a decade's worth of natural erosion.
It also will refill the additional 160,000 cubic yards of sand stripped off the beaches during this month's historic storms — as much as they used to lose in an entire year, according to town engineers' analysis.
READ FULL ARTICLE HERE