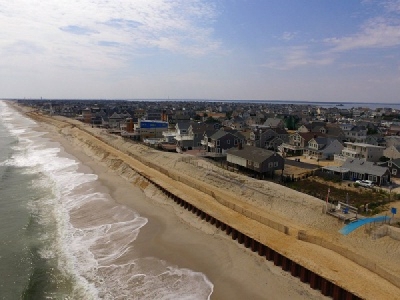 Posted on September 13, 2016
Tropical Storm Hermine may be long gone, but some Shore towns in New Jersey are still feeling the effects and planning for future storms while they continue to wait for beach replenishment.
A week after Hermine made its way toward New Jersey, whipping up high waves, the southernmost beaches in Brick Township remain closed because of severe erosion.
And while the Ortley Beach section of Toms River fared better than usual in storms, township officials say they're keeping a close eye on that section of the oceanfront and are taking measures to shore up the dunes there ahead of the anticipated off-season storms.
"We were pleasantly surprised at how we were able to get through the storm, but that was more a function of how far offshore Hermine was," said Paul Shives, Toms River business administrator.
Hermine's aftermath didn't force the closure of Ortley beaches, but on Tuesday the township council is expected to vote on a resolution setting aside $5 million for emergency dune and beach repairs before next summer, Shives said.
He said the resolution would allow the township to designate a contractor to work on an as-needed basis in emergencies and to pay for sand to be trucked in to bolster the dunes.
"God willing, we won't need it," Shives said. "Ours is more about strengthening and widening the dune as much as we can."
Source: NJ.com