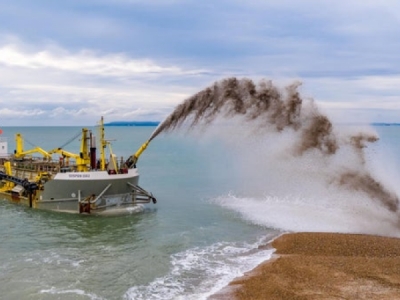 The Sospan Dau dredging vessel performing a rainbowing show. Picture: Michael Woods/SSS Direct Ltd
Posted on November 10, 2020
THE next steps in the £100m Southsea sea defence project will take place tomorrow with a 'rainbowing' show.
A specialist dredging vessel – called the Sospan Dau – is due to dredge gravel offshore before discharging it onto a stretch of Southsea beach in front of Long Curtain Moat – in a technique known as rainbowing.
This is to develop a temporary working platform to allow the next stages of sea defences' construction above the tidal zone to progress.
It is thought in the first of the five-day operation around 5,000 cubic metres of gravel will be placed on the shore between Clarence Pier and the Spur Redoubt.
In total the Sospan Dau will dredge approximately 23,000 cubic metres of gravel, in two phases, reusing material that was placed offshore during dredging work in 2016 and 2017 for the arrival of the new Queen Elizabeth-class aircraft carriers in to Portsmouth.
The works were initially meant to begin on October 30 but due to adverse weather conditions preventing the vessel sailing from the Irish Sea to Southsea they will begin on November 5.
As part of the Southsea sea defence project a path along Long Curtain Moat from the Hot Walls has been temporarily closed off, and part of Southsea Common has been sectioned off to make way for site offices.
Castle Field in Southsea has also been cordoned off to create a temporary safe nesting site for Brent Geese as their usual grounds are being used as part of the sea defence works.
Source: portsmouth.co.uk