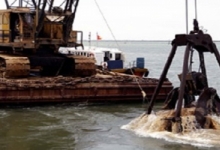 Posted on August 11, 2015
HCM City has sought the Government's permission to earmark VND300 billion (US$13.8 million) a year for dredging the Soai Rap River, which connects the city with the East Sea.
In a recent communication to Ha Noi, the People's Committee said the city has been investing in infrastructure for Hiep Phuoc Port, including the Soai Rap River passage, which is considered the most important factor in developing the region's marine economy and bringing in revenues. The Soai Rap River passage has been used since mid-2014 when dredging of the river was completed, allowing vessels of up to 50,000 tonnes to reach the city's ports.
But experts have warned about massive deposits of alluvial soil in the first few years, and the passage receives an estimated 2.5 million cubic metres per year.
According to the People's Committee, the city's ports will handle 100 million tonnes of cargo this year and this will increase to 150 million tonnes by 2020.
The city has also asked the Government to allow it to keep 100 per cent of the navigation fees it collects for the use of the Soai Rap passage.
The dredging of the passage involved 1,308ha of river on a 54km stretch in HCM City, Long An, and Tien Giang.
It was financed with VND2.8 trillion from ODA (official development assistance) loans from Belgium and funds from the city's coffers.