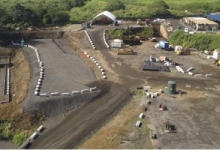 Posted on August 24, 2015
Hawaiian Dredging Construction Co. is owed at least $24.5 million from Hu Honua Bioenergy for work the Honolulu-based general contractor has done at the Big Island biomass plant, Hawaiian Dredging's general counsel and vice president confirmed to PBN.
In December, Hu Honua Bioenergy, which is in the process of refurbishing the power plant originally built in 1972 for the Hilo Coast Processing Co. sugar mill in Pepeekeo, said it had reached a settlement to resolve a contractual dispute with Hawaiian Dredging.
But Gary Yokoyama, vice president and general counsel for Hawaiian Dredging, told PBN that although a settlement has been reached, Hu Honua still owes the company $24.5 million, not including interest.
A spokeswoman for Hu Honua told PBN Wednesday that the company does not comment on matters of litigation.
Last year, Hu Honua chose California-based Performance Mechanical as a replacement for Hawaiian Dredging after the Honolulu firm pulled the last of its workers from the job site because it hadn't been paid by the renewable energy developer.
In 2013, Hawaii regulators approved Hu Honua's power purchase agreement with Hawaii Electric Light Co. to provide renewable energy from its 21.5-megawatt biomass plant.
Hawaiian Electric Industries Inc., (NYSE: HE) the parent of Hawaiian Electric — which is the parent of HELCO — said in its second quarter earnings reportreleased earlier this month that the plant is scheduled to be in service in 2016.
HEI also noted that the plant could potentially be expanded to add additional power generation sometime between 2020 and 2025.
Hu Honua also remained in the top spot of Hawaii's Clean Energy Leaders list, which ranks 40 or so projects in the state that demonstrate progress toward becoming commercial enterprises.