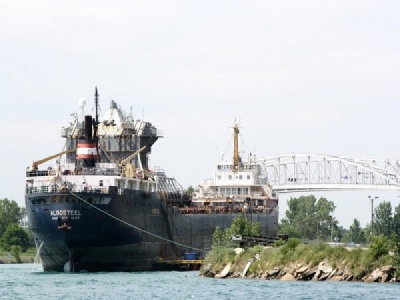 Freighter at Sarnia Harbour North Slip
Posted on September 13, 2016
By Melanie Irwin, BlackburnNews.com
A loaded agenda greets Sarnia council for its regular meeting Monday.
It's recommended Ocean Group, based out of Quebec City, be awarded the nearly $3-million tender for Sarnia Harbour Maintenance Dredging.
Councillor Anne-Marie Gillis thinks it's in the city's best interest to make sure the harbour is functional and the depths are there for the larger vessels that want to come in.
"There's been discussion that we would like to have cruise ships coming in, we have to make sure that the depths are there for them," says Gillis. "So it's just part of the natural maintenance that needs to be done when municipalities own harbours."
The last time Sarnia Harbour dredging was undertaken was in 2008 by Transport Canada and Public Works Canada.
Staff say the project wasn't completed due to lack of funding and areas alongside the government dock and North Slip were omitted from that project.
Pending council approval, the proposed project would start September 19 and be completed by the end of the year.
It's hoped crews will achieve a minimum working harbour depth of 8.40 m.
The project is to be funded from the Federal Sarnia Harbour Reserve.
Sarnia Council will also consider options for implementing a deputy mayor position and three different rezoning applications.
The Refined Fool Brewing Company wants to open a second location at 153 Christina St. S. while the other two focus on changes to allow for more residential development.
Source: BlackburnNews.com