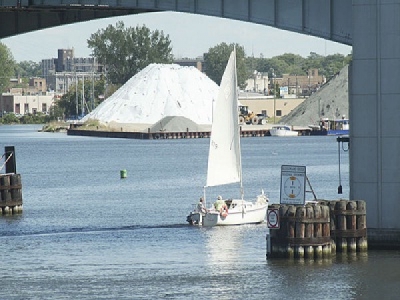 Posted on September 15, 2016
By John Matuszak, The Herald Palladium
Berrien County will no longer be responsible for planning the dredging of harbors after this year, county Commissioner Bill Chickering told St. Joseph city officials Monday.
He said there is "a little sense of urgency" as county commissioners expect to vote next month on whether to dissolve the Harbor Authority as of Jan. 1 and turn over the maintenance of the harbors to St. Joseph, Benton Harbor and St. Joseph Township.
He added that Berrien County will not leave the local communities up a creek without a paddle.
County Administrator Bill Wolf has proposed disbanding the St. Joseph River Harbor Authority, which was established in 1995 and coordinates the dredging efforts to maintain commercial shipping. Wolf argued that the local communities have the real authority to make land use decisions along the waterfront, and should be the ones taking the wheel on harbor development.
The U.S. Army Corps of Engineers oversees the dredging, which is paid for with federal funding, but there has to be a local authority in place for the dredging to go forward, St. Joseph City Manager John Hodgson explained.
That will require a local government or group to step up, Chickering said. County officials have met with representatives of St. Joseph Township about the issue, and had spoken with Hodgson. Chickering said the impact on the township would be "relatively minor" because it does not border the commercial harbor.
He offered that Dan Fette, the county's community development director, would be available to assist with negotiations with the Corps of Engineers.
The new arrangement will affect recreational boating as well as commercial shipping, Chickering said. He noted that several years ago the water levels on the St. Joseph River were very low, and Berrien County spent $300,000 for dredging along the waterway.
The county, if the Harbor Authority is dissolved, will no longer be available to pay for river dredging, Chickering said. The federal government does not pay for dredging for recreational boating.
It will be up to the local governments, marinas and/or boat owners to fund this maintenance when it becomes necessary, he said. He added that the county's public works department could be available to help on these projects.
In 2013, Berrien County proposed moving the commercial docks from the inner to the outer harbor as a way to reduce dredging costs. St. Joseph officials and some residents objected to moving the docks, and city commissioners declined to support the county's $10 million federal grant application for the project.
Source: The Herald Palladium