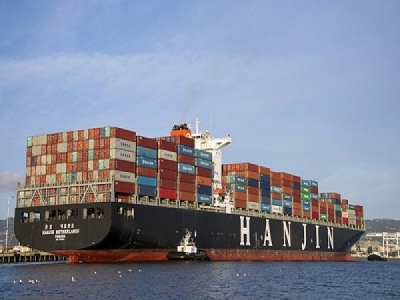 Posted on September 13, 2016
By Jim Christie and Joyce Lee, REUTERS
A Hanjin Shipping Co Ltd (117930.KS) vessel is finishing unloading in California and scheduled to leave port on Monday, shipping industry officials said, as shareholders and executives associated with the South Korean firm pledged funds to help resolve the turmoil created by its collapse.
The Hanjin Greece docked in Long Beach on Saturday after a U.S. bankruptcy court granted it protection and terminal operators agreed to take it.
Truck drivers probably will begin moving containers from the Greece on Monday while the vessel prepares to leave late in the day for the Port of Oakland, said Teamsters spokeswoman Barbara Maynard and shipping traffic controllers.
However, the Greece carries only a fraction of the $14 billion in goods on dozens of ships owned or leased by the world's seventh-largest container carrier.
The collapse of Hanjin under debts of $5.5 billion has caused havoc in global trade networks and a surge in freight rates. Some vessels have also been seized.
On Monday, Choi Eun-young, a former chairwoman of Hanjin Shipping pledged to provide $9 million in private funds to help resolve the situation "in which economic damage is increasing from the turmoil in shipping due to its unexpected court restructuring".
Choi, who controlled Hanjin Shipping between 2007 and 2014, will provide the funds "within days".
Parent company Hanjin Group pledged last week to raise 100 billion won ($90 million) in funds to help rescue stranded cargo.
Korean Air Lines (003490.KS), the biggest shareholder of Hanjin Shipping, on Saturday approved a conditional plan to provide a loan of 60 billion won to the troubled shipper. Hanjin Group chairman Cho Yang-ho will raise the remaining 40 billion won and the goal is to raise it by Tuesday as the funds are needed as soon as possible to unload cargo, a Korean Air spokesman said on Monday.
MORE SHIPS COMING
Charter owner Seaspan Corp (SSW.N) has three ships under charter with Hanjin – the Hanjin Buddha, Hanjin Namu and Hanjin Tabul – which are all due to hit the U.S. West Coast within the next few days. Chief executive Gerry Wang said he was confident the South Korean government would provide sufficient funds to pay port operators and Seaspan by the time those ships arrived to ensure they were unloaded.
"We're keeping our fingers crossed, but South Korea is an export economy and the government needs to ensure the flow of goods to consumers," Wang said. "I don't think they want that supply chain to be interrupted on a permanent basis."
Creditors have sought an arrest warrant against the Seaspan Efficiency, a ship hauling cargo for Hanjin that was due to arrive in Savannah. Wang said the cargo concerned amount to just around $800,000 and that he was confident the parties involved could come to an agreement.
It is not clear when port operators will bring others to berths in Southern California and elsewhere. The U.S. court on Friday gave three other Hanjin ships protection from seizure.
The three other Hanjin ships protected by the U.S. court order are the Hanjin Boston, which remained off the Port of Long Beach awaiting orders on Sunday, and the Hanjin Gdynia, which was several hundred miles away from Long Beach, and the Hanjin Jungil, 310 nautical miles west of San Francisco with its destination listed as Long Beach, according to Marine Exchanges on the west coast that coordinate shipping traffic.
Another Hanjin ship off Long Beach, the Hanjin Montevideo, is under the supervision of a court-ordered custodian after two fuel companies obtained an arrest warrant for it over unpaid bills. Hanjin and the fuel providers are trying to work out an arrangement to release the vessel.
In Hong Kong, the Hanjin Belawan arrived from Shanghai on Monday loaded with containers and was anchored a short distance from the city's Kwai Chung Container Terminal.
Terminal operator Hongkong International Terminals, a unit of Hutchison Port Holdings Trust controlled by tycoon Li Ka-shing, has outraged local cargo owners by charging fees of between HK$10,000–HK$15,000 ($1,285-$1,928) per Hanjin container to release them at the port.
The delays have concerned importers like Alex Rasheed, president of Pacific Textile and Sourcing Inc in Los Angeles, which has a shipment of clothing in 16 containers on Hanjin ships off Long Beach.
"We're already starting to run out of some colors and some sizes," Rasheed said, noting Hanjin's collapse comes as U.S. retailers prepare for the all-important holiday shopping season.
In Singapore, cargo owner AP Oil International said it had been sending replacement cargos on urgent orders.
"On the procurement side, we do also face some issues to receiving raw materials shipped on Hanjin vessels, which of course we are adjusting our supply chain and production to meet and replace the cargo due to the uncertainty of the situation now," Group Chief Executive Ho Chee Hon said.
Source: REUTERS