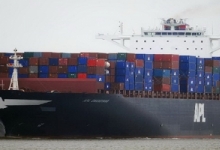 Posted on July 25, 2015
By Crystal Chan, IHS Maritime 360
The South Korean port of Gwangyang is planning to deepen and widen its Fairway 3 to better cater to bigger ships.
Currently, Fairway 3 is 22 m deep and 380 m wide. It is one of Gwangyang port's seven fairways.
Yeosu Regional Maritime Affairs and Fisheries Office, which oversees Gwangyang and Yeosu ports, said in an announcement on 8 July that it is hoped that deepening the waters would reduce demurrage costs that charterers incur, as a result of vessel delays.
READ FULL ARTICLE HERE