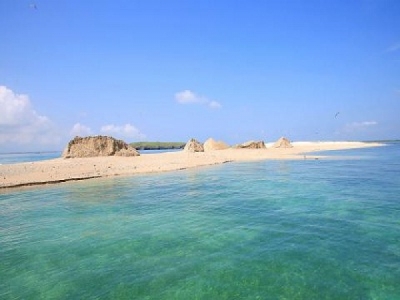 Posted on September 13, 2016
By Liu Yu-ching and Jake Chung, Taipei Times
Environmental protection groups protested against a dredging operation at Niaoyu Port in Penghu County, saying the sand pulled from the harbor and piled on a clearing might be blown out to sea and damage coral reefs.
At least 35,000m3 of sand has been dredged up and deposited on the eastern part of Penghu Beach, in Niaoyu Park.
The sand deposit could harm local ecology, as terns nest on the beach in the summer, the groups said, adding that northeasterly monsoon winds in the winter could blow the sand back into the sea, which could cause an ecological disaster if the sand settles on coral reefs.
The area in question is a sandbank and not an intertidal zone, Penghu County Public Works Department Director Tsai Chi-hsien said, adding that the department, along with the Department of Agriculture and Fisheries and the National Property Administration, decided that depositing the sand in the area would have minimal effects on local ecology.
Tsai said the sand deposit at Niaoyu Port might be caused by changes in local hydrology.
However, sources said that the local hydrology was not only changing at Niaoyu Port, adding that Jibei Islet was also seeing a buildup of sand on its beaches after building breakwaters.
Artificial structures might be the primary cause of the hydrological changes, the sources said, adding that natural occurrences, such as typhoons, might also play a part.
The county government's primary focus would be working toward the conservation of extant intertidal zones and ensuring the protection of marine ecology in the area, the sources said.
Source: Taipei Times