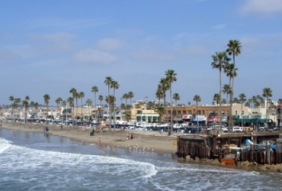 Posted on February 8, 2016
The City of Newport Beach will receive two awards from the American Society of Civil Engineers (ACSE) Orange County Branch at the group's annual awards dinner on February 18. The $36 million Marina Park project was unveiled last month, offering a variety of recreational activities. "We would like to congratulate the City of Newport Beach for its long term vision in creating this unique waterfront amenity for the community. Griffin is pleased and privileged to have participated in the successful delivery of this project–one other coastal communities can look to for inspiration," said Roger Torriero, CEO of Griffin Structures.
Receiving awards in the Airports & Ports and Architectural Engineering categories, Marina Park captures views of Newport Bay and Harbor, and offers land and water activities. The 10.5 acre site features a 24,000 square foot community and sailing center, 23-slip visitor marina, café, nautical-themed playground, fitness circuit equipment, picnic amenities, open space, parking and restrooms. The sailing center, in partnership with the UC Irvine Campus Recreation Program, offers sailing and boating programs for new and experienced youth and adult mariners.
A 71-foot iconic lighthouse tower serves as a wayfinding beacon to harbor and peninsula visitors and houses the Balboa Peninsula tsunami warning system. The two-year project retained 39 heritage palms which were relocated and incorporated into the new design. The marina utilized soil remediation measures to mitigate liquefaction, while sands removed replenished other City beaches.
Marina Park was designed by Rabben/Herman design office and Bundy-Finkel Architects, while the marina was designed by Moffat & Nichol. "I am so proud to have been involved in the Marina Park project from its very beginning. There is no higher professional or personal satisfaction than seeing children playing and laughing in a park that you were part of creating," Dan Herman of Rabben/Herman design office stated.
About the Construction Manager
Griffin Structures, founded in 1981, is an innovative, award-winning program and construction management organization providing strategic project delivery solutions to public, non-profit, and private sector clients. Griffin specializes in program and construction management, as well as strategic services such as needs assessment, and has the ability to structure public-private partnerships. Griffin helped deliver this unique community asset under budget and ahead of schedule.