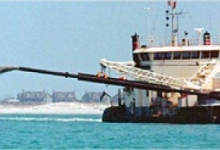 Posted on July 22, 2015
By Elizabeth Warmerdam, Courthouse News Service
The Army Corps of Engineers' dredging of 11 navigation channels in San Francisco Bay will erode the shore and put endangered fish at risk, an environmental group claims in court.
San Francisco Baykeeper seeks writ of mandate compelling the San Francisco Region of the California Regional Water Quality Control Board to set aside its approval of the project.
The dredging project – "Maintenance Dredging of the Federal Navigation Channels in San Francisco Bay, Fiscal Years 2015-2015" – allows maintenance dredging by the Army Corps of Engineers.
The Corps of Engineers regularly dredges the Bay floor to keep shipping channels and harbors deep enough for oceangoing vessels in the Bay and farther up the Delta.
READ FULL ARTICLE HERE