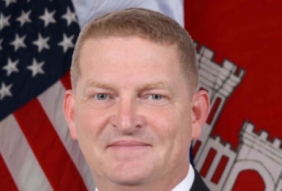 Col. Bryan S. Green
Posted on September 9, 2015
Col. Bryan S. Green takes command of the U.S. Army Corps of Engineers' Engineer Research and Development Center Thursday at a change of command ceremony at ERDC.
The ceremony is 10 a.m. at the Information Technology Laboratory auditorium. Host for the ceremony is Maj. Gen. Richard L. Stevens, Corps deputy commanding general.
He assumes command of a Corps branch that employs more than 2,500 employees, $1.2 billion in facilities, and an annual research program exceeding $1.1 billion. ERDC conducts research in both military and civil works mission areas for the Department of Defense and the nation.
Green served as commander of the Corps' Far East District in South Korea from July 11, 2013, to July 24, 2015, and was responsible for planning, engineering, design and construction management services and operations from armistice to contingency in support of the Department of Defense and U.S. forces in the Republic of Korea.
He led a workforce of more than 750 U.S., Korean and other nationals executing an overall program in excess of $15 billion.
Green was born in Dayton, Ohio, and grew up primarily in Salisbury, Md. He joined the U.S. Marine Corps and completed basic training and officer candidate training. He earned an Army college scholarship and changed services.
After graduation from the Army officer basic course, he became a platoon leader in Company A, 14th Engineer Battalion, and later served as assistant operations officer for the battalion.
He was the 577th Engineer Battalion logistics officer at Fort Leonard Wood, Mo., and also commanded Company, B, 3rd Battalion, 10th Infantry Regiment and served as a combat development officer in the maneuver support battle lab.
In May 1997, Green served as the deputy resident engineer in Doha, Qatar, and later was the tactical support team commander for Company E, 96th Civil Affairs Battalion and deployed to the African countries of Mali, Nigeria, and Senegal, supporting the 3rd and 7th Special Forces Groups and the 75th Ranger Regiment.
Green deployed to Kuwait for 15 months as director of public works for Area Support Group Kuwait. He was later assigned to U.S. Army Central Command and served in numerous positions, including the deputy engineer for the U.S. Army Central coordination and support element, Afghanistan.
He has a bachelor of science in physical sciences, a master of science in engineer management, and a master's in international relations.
His military education includes courses and schools in engineering officers, mapping and charting, civil affairs and psychological operations, Asian studies, public works management, engineer security, and attended the Army's Command and General Staff College. His awards and decorations include the Bronze Star Medal (three awards), the Purple Heart, the Meritorious Service Medal, the Army Commendation Medal, the Army Achievement Medal, theParachutist Badge, the Air Assault Badge, and the Combat Action Badge.