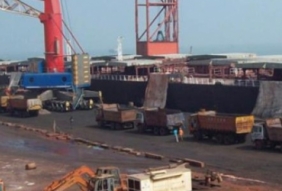 Posted on March 7, 2016
The ministry of environment, forests and climate change (MoEF) has accorded environmental and coastal regulation zone (CRZ) clearance to AP Gas Distribution Corporation Limited (APGDC) for the development of the Floating Storage Re-gasification Unit (FSRU) based LNG terminal at Kakinada Deep Water Port in East Godavari district.
As per the environmental clearance issued by the MoEF on February 9, the APGDC is undertaking the project with a 3.5 MMTPA design capacity of the proposed LNG terminal and appropriate operational flexibility up to a maximum of 5.25 MMTPA.
The environmental clearance document states that the proposed LNG terminal consists of development of marine facilities for LNG import (island jetty platform), berthing/mooring of FSRU, storage and regasification of LNG with Kakinada Deep Water Port harbour, a high pressure subsea pipeline to transport regasified LNG to coast and an onshore receiving facility for gas metering skid, control room and supply to gas grid. The capital dredging for the proposed project is estimated at about 19 million cubic metres and the maintenance dredging is estimated about 1.5 million cubic metres per year, the document added.
Confirming the development to TOI, chairman of APGDC Ajay Jain said, "Yes, the environmental clearance for the project has been granted and we will be going ahead with the project." He said that the estimated cost of the project is around Rs 1,500 crore.
As per the pre-feasibility study report submitted by APGDC to the MoEF, marine facilities will be designed to accommodate LNG vessels between 1.2 lakh metre cube and 2.15 metre cube. However, mooring and berth shall be designed to accommodate up to 2.65 lakh metre cube (Qmax class) vessels. The report also said that with an installed capacity of more than 15,500 MW, Andhra Pradesh represents one of the largest power markets in India. The AP state power utilities have power purchase agreements for around 2,700 MW of gas based power plants in the state. However, due to shortfall in domestic gas, these plants are not operating at their optimal capacities. The gas based plants in the state are currently operating at 50% – 60% of their capacity. Further, an estimated 13,000 MW of gas based plants are expected to come up in the state in the coming years subject to gas availability given the constraints in coal supply.
At Kakinada Deep Water Port, the FSRU is being proposed to be located on the leeside of the breakwater moored to a conventional jetty. This will be at a distance of about 2.5 km from the onshore terminal location.
As the FSRU is within the protection of the breakwater, the terminal will be operable for most of the year except during extreme cyclonic conditions, the report added.