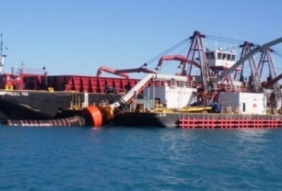 Posted on December 21, 2015
Great Lakes Dredge & Dock Co LLC has been awarded a US$7,105,000 firm-fixed-price contract with options for construction of the New York – New Jersey Harbor Deepening Project Anchorage Channel Utility Corridor and shoal removal.
Bids were solicited via the Internet with three received. Work will be performed in Brooklyn and Staten Island, New York; and Jersey City and Bayonne, New Jersey, with an estimated completion date of 31 May 2016.
Fiscal 2014 and 2015 other procurement funds in the amount of US$7,105,000 were obligated at the time of the award. The US Army Corps of Engineers, New York, New York, is the contracting activity.