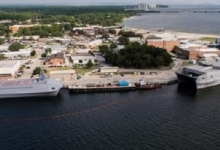 Posted on August 25, 2015
By John Henderson, NEWS HERALD
Large combat ships full of sailors ready to spend money at local businesses could soon be docking at the Navy base after a new study is completed.
In a letter Bay County Manager Bob Majka received Tuesday, the state's Department of Economic Opportunity announced Bay County will be receiving a grant of up to $185,000 to pay for a feasibility study of a dredging project at the base. The project would create a ship turning basin just outside Alligator Bayou to allow safe transit for larger Navy vessels to and from Naval Support Activity Panama City.
Today, to avoid running aground, larger ships leaving the base must back out through a narrow, deeper channel some distance before turning around. Because of this difficult maneuver, many of the larger ships avoid the base altogether, and those missions are handled at other installations, Navy officials said.
READ FULL ARTICLE HEREDN