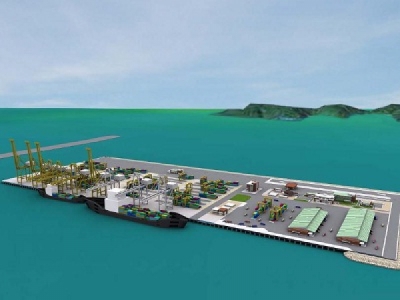 Posted on October 6, 2016
The Government of Georgia signed an agreement today that grants the Anaklia Development Consortium (ADC) the exclusive right to construct, develop and operate the $2.5 billion Anaklia Deep Sea Port, which will help establish a new maritime corridor from China to Europe. As part of the agreement, the Government will invest $100 million in the construction and development of railway and transportation links connecting the port to the region.
The ADC also signed today a contract with one of the largest maritime engineering companies, Van Oord, to conduct pre-construction works. The Dutch company Van Oord has executed dredging, marine engineering and offshore projects across the world, including the New Suez Canal, the construction of Palm Island in Dubai and the construction of Maasvlakte 2, a major extension of the Port of Rotterdam.
"Today's agreement signifies a major commitment by the Government of Georgia, who have been instrumental supporters of the Anaklia Deep Sea Port from Day One," said Mamuka Khazaradze, Co-founder of the Anaklia Development Consortium. "The Government's $100 million investment represents an incredible statement of confidence in a project that has the potential to transform Anaklia and generate decades of new prosperity and opportunity for Georgia and its neighbours. And with experienced partners like Van Oord also on board, we are confident of bringing the project to a very successful completion."
The Anaklia Deep Sea Port is expected to be operational by 2020. Thousands of workers will be employed during the nine phases of port construction and development, and the ADC is opening a training center to ensure a large percentage of those workers come from the local community.
In parallel with the port construction, Anaklia Development Consortium has committed to build in Anaklia a facility for kindergarten classes, an ambulatory center, a business center, and mini soccer and volleyball fields as well as repair a local municipal administrative building.
Source: Hellenic Shipping News