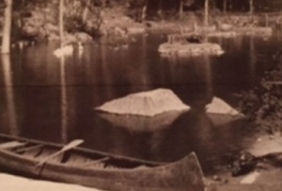 Upper Pond Circa 1940
Posted on November 26, 2015
By Kevin Webb, DarienTimes.com
A project designed to repair the Good Wives River Bridge and remove thousands of feet of sediment from Gorham's Pond is now underway, but the impending winter has altered the planned schedule.
The project focuses on the restoration of the Good Wives River Bridge, which seperates the upper and lower portion of Gorham's pond, the installation of a fish ladder and the removal of sediment from the upper pond. Bids for the project began in August, with Candide Contractor being chosen to complete the necessary work. Though work was initially expected to begin in October and continue for eight weeks, a late start will likely force the project into next year.
"There's been a lot of planning going on to try and work through as much of the winter as we can, and then we're going to have to finish in the spring," Friends of Gorham Pond vice-chair Lucia Zachowski said.
READ FULL ARTICLE HERE