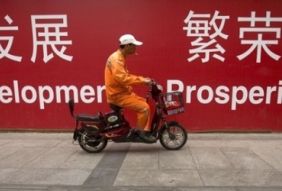 Posted on September 11, 2015
A "hard landing" for China is likely to plunge the world economy into recession in the next two years, Willem Buiter, chief global economist at Citigroup and a former Bank of England policymaker, has said.
As the Federal Reserve in Washington prepares to decide whether to defy warnings of economic fragility and push up interest rates next week, a research note by Citi's experts warns of a 55% probability of global recession.
They expect the downturn to be driven by waning demand from the fragile Chinese economy, which Citi believes is heading for a crash.
"We consider China to be at high and rapidly rising risk of a cyclical hard landing," Buiter said in the note. "Should China enter recession – and with Russia and Brazil already in recession – we believe that many other emerging markets, already weakened, will follow, driven in part by the effects of China's downturn on the demand for their exports, and, for the commodity exporters, on commodity prices."
A global recession is usually defined by economists as an extended period of below-capacity growth. Citi puts global potential growth at 3%, but expects growth to "reach or fall below 2%" before bottoming out in 2017.
"We believe that a moderate global recession scenario has become the most likely global macroeconomic scenario for the next two years or so," Buiter says.
Few other economists are predicting a global recession, and the mood among investors has calmed since August's chaotic trading, when growing evidence of China's slowdown sent shockwaves through the world's financial markets.
But Buiter says: "Economists seldom call recessions, downturns, recoveries or periods of booms unless they are staring them in the face. We believe this may be one of those times."
He is sceptical of Beijing's ability to mitigate the looming crisis, after a series of panic interventions in recent weeks to stem stock price declines and boost growth, describing China as "a messy market economy of the state capitalist/crony capitalist variety, where policy ambitions are not matched with effective policy instruments".
Citi cites the sharp decline in GDP growth among emerging economies; the downturn of global trade; and low commodity prices and inflation, as signs that China's weakness is already rippling through markets, saying: "The evidence for a global slowdown is everywhere."
Buiter fears that the authorities in developed countries are ill-equipped to respond, given that interest rates are already close to zero, and high debt levels mean governments are likely to be unwilling to offer fiscal support by loosening the public purse strings.
A growing number of analysts have added their voices to calls for the Fed to hold fire, as insurance against a global slowdown. The World Bank and the International Monetary Fund have both called for a delay to interest rate "lift off".
Kaushik Basu, the World Bank's chief economist, was quoted as saying: "The world economy is looking so troubled that if the US goes in for a very quick move in the middle of this, I feel it is going to affect countries quite badly".
Buiter was one of the first members of the Bank of England's monetary policy committee, from 1997, and later served as a professor at the London School of Economics, before joining Citi. MPC members will publish the minutes of their latest meeting on Thursday, revealing whether they have become more concerned about the state of the global economy.