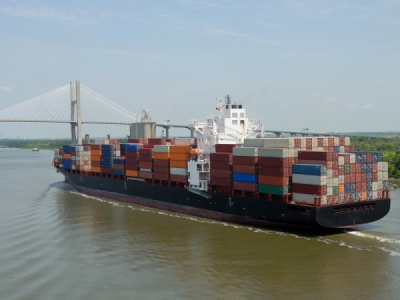 Posted on February 21, 2019
Image: Shutterstock
A collection of Georgia's federal legislators are urging the Assistant Secretary of the Army for Civil Works, R.D. James, to maintain funding for the Savannah Harbor Expansion Project (SHEP).
SHEP has been underway for the better part of 20 years, although June 2018 marked the first time the project had ever secured full federal funding. U.S. Sens. Johnny Isakson, (R-GA), and David Perdue (R-GA), along with U.S. Rep. Buddy Carter (R-GA), said they have only secured enough funding — $101 million — to keep the project going through 2019. The legislators seek another $132.28 million for the project.
"The Port of Savannah is critical to Georgia's economy, to successful global trade and to the thousands of jobs it supports," Isakson said. "We appreciate the administration's continued attention and actions to support this vital infrastructure project, and we will continue to press our case for its full, on-time funding."
Carter noted the project has a benefit to cost ratio of 7.3 to 1, and Perdue said the port's role as the fastest growing port in the United States. Without expansion, Georgia's economy could suffer, in their view, the country at large.
"After 19 years of delays, we finally secured full federal funding last year to keep the Savannah Harbor Expansion Project on track," Perdue said. "Once completed, SHEP will contribute $282 million to our economy each year and will help our country compete globally. President Trump has made SHEP a priority, and we will continue working with the administration and Army Corps of Engineers to ensure the project is fully funded on time until completion."
Source: Transportationtodaynews.com