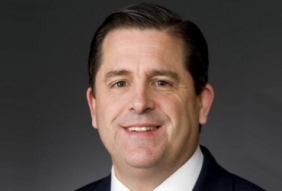 Curtis Foltz
Posted on September 30, 2015
Georgia Ports Authority (GPA) is celebrating a record year of growth, with 3.66 million teu through the Port of Savannah – a 17% increase.
Of that cargo, 369,347 containers moved by rail, an 11% increase over the previous year, while total cargo across all terminals reached 31.7 million tonnes for the year, a 7.8% increase.
Between Savannah's Ocean Terminal and the Port of Brunswick, the GPA moved 714,008 units of autos and heavy machinery in FY15, also the highest volume ever. Thanks to new customers and growth in existing trade, automobile units increased by 29% at Ocean Terminal.
"In Fiscal Year 2015, we experienced unprecedented growth, with West Coast diversions to East Coast ports, a recovering US economy and import market share gains leading to all-time highs in cargo volume," said Curtis Foltz
Elsewhere, progress is being made in deepening the Savannah Harbor. Earlier this month the 300ft Great Lakes Dredge and Dock vessel the Alaska began work on a US$134.5m contract issued to dredge the 18.5-mile outer harbour to 49ft at mean low water. Better accommodating Post-Panamax vessels in Savannah will reduce transportation costs for US companies moving goods through the port by 20 to 40%.
Beyond the terminal gates, the state Department of Transportation is set to complete the Jimmy Deloach Parkway extension in 2016. The project will provide a direct route between Garden City Terminal and Interstates 95 and 16, separating truck and commuter traffic, and cutting transit time for both.
For 2016, GPA plans to significantly increase capacity at the Garden City Terminal with a new empty container depot that will add more than 15,000 teu. Plans for the new Gate 8 are also underway, which will add eight additional interchange lanes by March of next year.
In addition, the authority is expected to receive four new ship-to-shore cranes, for a total of 26, and 30 new rubber-tired gantry cranes for a total of 146 in FY16.
"The fact we were able to handle this influx of business without congestion has opened doors to long-term opportunities for Georgia. Our new improvement plan will continue to keep Savannah's capacity ahead of demand," Mr Foltz added.