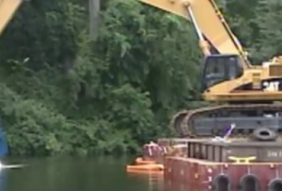 Posted on March 21, 2016
General Electric has issued a final rejection of the Environmental Protection Agency's $613 million proposal to clean chemicals from a western Massachusetts river.
The Berkshire Eagle reports GE Vice President for Global Operations Ann Klee said in the rejection letter posted Wednesday that the company's position is "clear and unchanged."
The EPA had proposed cleaning PCBs, or polychlorinated biphenyls, from more than 400 acres along a 10.5-mile stretch of the Housatonic River in Pittsfield and Lenox. It includes dredging and trucking contaminated soil and sediment to an out-of-state facility.
Klee says GE will implement a "common sense" solution to cleaning the river.
The next step is for the EPA to issue a final cleanup order. If GE rejects the decision, the case goes to the EPA's Environmental Appeals Board.