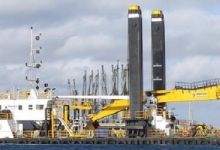 Posted on August 17, 2015
By Nicholas Payne, Geelong Advertiser
GEELONG Port is getting an $8 million upgrade, including significant dredging at the hands of a New Zealand construction firm.
Heron Construction Company's 52m dredge, the Machiavelli, will arrive at Refinery Pier in September and spend up to eight weeks conducting excavations to expand the port.
The underwater mud and sludge from the operation will be transported by towing barges to the existing dredge material ground east of Point Wilson.
READ FULL ARTICLE HERE