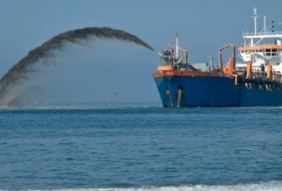 Posted on October 26, 2015
Panaji: The Goa Coastal Zone Management Authority (GCZMA) has granted its approval to the Captain of Ports (CoP) to undertake dredging operations at the mouth of River Chapora, however, it has to ensure that the activity does not have any adverse environment impact.
Permission has been granted to dredge in an area of around 500 metres in length and 35 metres wide and another 200 metres in length and 35 metres in width. Braganza said an estimated quantity of about 73,500 cubic metres needs to be dredged out from the area so as to achieve an overall uniform depth of four metres for safe navigation.
GCZMA member secretary Srinet Kothwale, in the approval, has directed CoP to ensure that all provisions of the CRZ notification 2011 are strictly complied with. "Due care should be taken to prevent and mitigate adverse environmental impact, such as erosion of earth materials into river, dust pollution and noise pollution," the conditions state.
CoP has been directed to seek all necessary approvals before commencing the dredging activity. The permission will be valid for a period of five years.