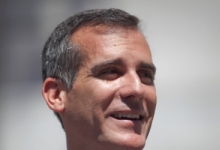 Posted on July 29, 2015
Mayor Eric Garcetti said Monday he will urge a panel of top U.S. Army Corps of Engineersofficials in Washington, D.C., this week to advance a $1.3 billion project to restore natural elements to an 11-mile stretch of the Los Angeles River.
Garcetti told City News Service he will make a "final pitch" on Thursday to the Civil Works Review Board, made up of senior Army Corps of Engineers officials based in Washington, D.C.
The panel will consider a draft of the final environmental impact report for the project that is aimed at bringing back the natural ecosystem to a portion of the Los Angeles River that flows between Griffith Park and downtown Los Angeles.
READ FULL ARTICLE HERE