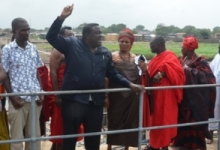 Posted on June 25, 2015
By GhanaWeb
The Ga, Osu and Ngleshie Traditional Councils have asked Metropolitan Chief Executive, Alfred Oko Vanderpuije, to expedite work on the dredging of the Korle Lagoon.
They have also asked the MCE to continue to explore ways of maintaining a filth-free Accra.
All three councils toured the Korle Lagoon dredging project site and the Odawna area to acquaint themselves with progress of work, after the June 3 flood and fire disaster which claimed over 150 lives.
READ FULL ARTICLE HERE