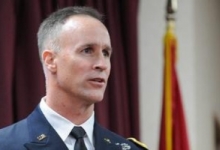 Posted on August 17, 2015
By Tyler Graef, Southeast Missourian
Residents of Southeast Missouri and Illinois gathered to discuss river-related issues Friday morning with representatives from the U.S. Army Corps of Engineers.
The meeting on board the MV Mississippi at the Cape Girardeau riverfront was part of the annual low-water inspection trip, during which members of the Mississippi River Commission travel the river and its tributaries to keep abreast of local issues. Cape Girardeau was first on an itinerary that includes meetings in Tennessee, Arkansas, and Louisiana.
Maj. Gen. Michael C. Wehr thanked speakers for taking the initiative to voice their concerns and join the discussion.
"This dialogue goes from here to Congress," he said.
READ FULL ARTICLE HERE