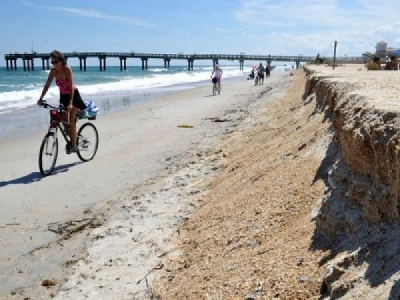 Posted on September 27, 2016
By Jake Martin, The St. Augustine Record
St. Johns County commissioners will continue supporting a $15 million renourishment project in St. Augustine Beach while encouraging a community group representing oceanfront owners to the north not to file a petition against the U.S. Army Corps of Engineers, which is spearheading that project.
The South Ponte Vedra-Vilano Beach Preservation Association says erosion on beaches to the north of the St. Augustine Inlet are not getting enough attention from local, state and federal agencies and that too much sand from dredging is going to the south beaches at their expense. St. Augustine Beach officials say they're afraid a petition would derail an ongoing project they believe has been a positive thing for the city, and, therefore, the county, largely out of spite.
According to a presentation at Tuesday's County Commission meeting by Neal Shinkre, public works director for the county, the county is a local sponsor to the corps for the St. Augustine Beach Shore Protection Plan as well as a feasibility investigation in South Ponte Vedra Beach and Vilano Beach.
As co-sponsor, the county is responsible for 10 percent, or $1.5 million, of the total cost of the Shore Protection Plan project at St. Augustine Beach. Funds will come from the county's Tourist Development Tax, or bed tax. The remainder of the funding is provided by the corps (80 percent) and FDEP (10 percent).
While the corps plans to renourish St. Augustine Beach in 2017, the SPVVB Preservation Association has indicated it would file a petition with the Florida Department of Environmental Protection (acting as permitting agency for the project) upon its issuance of a Notice of Intent to the Corps for execution of that plan. Upon issuance of that notice, expected in late September, the association would have 14 days to file a petition, if it so chooses.
Michael Ryan, county spokesman, said as of the end of business on Friday the Notice of Intent had not gone out and, thus, no petition had been filed.
Jason Harrah, project manager for the corps, told commissioners Tuesday if a legal challenge were to be filed, it would be filed against the state with the federal government as a party to that action.
"We will lose those funds," he said. "That's a guarantee. Once you lose those funds, when subsequent years' funds become available, they're very, very hard to get."
He said the project in St. Augustine Beach, at least for the time being, will move forward as planned and that the corps will stand behind its plan technically and legally.
Tom Turnage, president of the SPVVB Preservation Association, did not return multiple requests for comment Thursday and Friday.
Lines in the sand
Turnage and Linda Chambless, vice president of the association, had asked at Tuesday's meeting for the project in St. Augustine Beach to be delayed.
"They can apply for the funds the following year," Chambless said. "It's just that they would lose it for 2017 and there's no guarantee they'd get it in 2017 anyway."
Undine George, vice mayor of St. Augustine Beach, told commissioners she did not want to see 16 years of renourishment activities in her city wiped out because of another project she said has a "completely different set of circumstances."
She said the renourishments have stopped flooding in St. Augustine Beach while contributing to climbs in home values and tourism revenues.
"The federal government is in a state of flux, always, and these two projects are completely different," George said. "We do not know if the money will be there next year. To delay it just does not make any sense."
Shinkre said the Corps informed the county about six months ago that the fourth renourishment of St. Augustine Beach was likely and that federal funding would be available in 2017.
In the meantime, the SPVVB Preservation Association approached the county with concerns about further dredging of the ebb shoals near the St. Augustine Inlet and how placement of that sand to the south will further substantiate erosion to the north. The association also requested 1 cubic yard of sand for the north for every 2 cubic yards going to the south (as suggested in FDEP's Inlet Management Plan). However, dredging and sand placement activities to the north are not yet authorized.
Commissioner Rachael Bennett said the county has no influence over the amount of time that takes.
"For people to challenge our ability to move forward with what is permitted is putting us in an untenable position because there's nothing we can do to get the rest of it permitted," she said. "It's ironic. It was published even though it's not something we can accomplish."
Shinkre said beach renourishment is a long process and estimated it would be another two to three years before a substantial project to the north could take place. He said the county has already contributed $2 million toward the feasibility study for the north beaches, which is still in progress.
"Until the project is authorized, it is not like the project we have to the south," he said. "That project went through all those feasibilities."
Shinkre said there is also minimal public access to the beaches in the north and that temporary construction easements will be required, which could turn into a lengthy process in itself. Due largely to the lack of public access, that project's funding score would also come in less than that for St. Augustine Beach (with about 20 percent rather than 80 percent of funding coming from the Corps of Engineers).
Bennett said there were also engineering challenges in moving sand to the north beaches that are different from moving it to the south.
Shinkre said the county still supports a project to the north and could continue working with the community group and securing the easements necessary to, eventually, place sand. He said the county could also work on a funding plan to put sand on the north beaches including pursuit of a grant from FDEP.
"This is kind of the potpourri of moving things forward," Shinkre said.
Points of contention
Turnage on Tuesday told commissioners his organization was not opposed to the project in St. Augustine Beach.
"We're only opposed to the fact that the county has taken 10 million cubic yards, or will have taken 10 million cubic yards, off that ebb shoal to put on St. Augustine Beach with no sand going to the north," he said.
He said his interpretation of the Inlet Management Plan was that no more than 280,000 cubic yards of sand could be removed annually from the ebb shoals and, by his estimate, 50 years' worth of sand had been removed in just 10 years.
"They've so over-dredged that ebb shoal that nothing can happen but to have rapid erosion around the beaches," Turnage said.
Guy Weeks, planning consultant with FDEP, said the Corps' proposal to take 895,000 cubic yards of sand from the ebb shoal and another small portion of the inlet channel is consistent with the Inlet Management Plan. He said no more than 179,000 cubic yards are supposed to be removed in a given year, adding it's been five years since the last renourishment, thus allowing for 895,000 cubic yards of sand to be removed.
"We're planning to move forward in the permitting process," Weeks said.
But Turnage also said the county has not made good on promises made in a settlement agreement reached with the association in 2011, nor has it been following strategies outlined in the Inlet Management Plan. He said monitoring reports indicate "huge amounts" of erosion in affected areas surrounding the inlet.
"We believe there's a definite correlation that we can establish," he said. "We are going to file a petition."
Chambless said they had asked for a workshop with the county and other stakeholders months before Tuesday's discussion, but those workshops never happened.
"It is absolutely no longer true, or claimed, that there is no impact of dredging of the inlet area on the beaches to the north," she said, referencing a 2011 corps report identifying an "area of influence" extending 8 miles to the north. "Nobody, anymore, that I know of, is saying the dredgings have no impact."
However, a coastal engineering consultant for the county told commissioners while there is certainly erosion, what exactly is causing it is still up for debate.
A report on critically eroded beaches in Florida released by FDEP in August identifies four such segments in St. Johns County, including along South Ponte Vedra Beach and Vilano Beach where erosion is "threatening private development as well as State Road A1A." There are no references to any causes of that erosion.
According to Shinkre's presentation, numerous studies by the corps indicate dredging affects "only the beach close to the inlet."
Harrah said the severe beach erosion of 2005 often referred to by association members was largely due to storm damage during what turned out to be the most active hurricane season on record.
"Beaches will continue to erode, every day, if we walk away," Harrah added.
He said the corps still supports a project to the north but that it likely won't come to fruition until 2020, barring any difficulties in getting authorization and appropriations from Congress.
"Feds do not spend money on areas where the public cannot access the beach," he said. "That's the bottom line."
He said any project to the north will not see the funding ratios available for the St. Augustine Beach project due to access issues.
Chambless said well over 100 homes to the north are in the process of constructing seawalls and that none of those homeowners would have a problem signing off on easements to put some more sand between their homes and the ocean. She estimated homeowners have spent over $5 million of their own money constructing seawalls but that the anxiety, stress and fear of losing one's home "doesn't even touch the money issue."
According to its website, the SPVVB Preservation Association was founded in 2006 by oceanfront owners "who became increasingly alarmed about the sudden episode of (which turned out to be the first of several) extreme and devastating erosion, unlike anything that had ever been observed by long-term residents."
Bennett, although voicing support for a workshop and a fix for the north beaches earlier in the meeting, did not mince her words regarding the association's stated intentions.
"For a group of people to file a petition specifically to stop a project, that damages so much of our county, is self-serving," she said. "We cannot put the sand to the north anyway. We cannot do it. I don't know what filing a petition serves. It doesn't serve the greater good, it doesn't serve the interest of the county, it doesn't serve, in the long run, anybody, including the people filing the petition because it appears it's being done out of spite."
Commissioners are expected to hear an update on the project's status at their Oct. 18 meeting.
Source: The St. Augustine Record