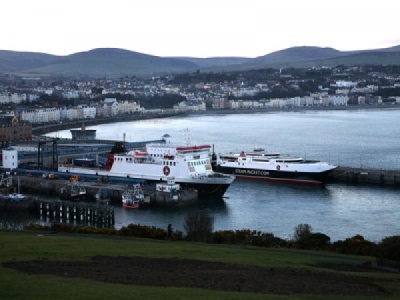 Steam Packet Vessels Manannan
Posted on September 26, 2016
The Steam Packet is running into problems at its main port in England. The ferry company is blaming a 'failure of an agreed dredging programme' for disruption to services from tomorrow (Friday) to Monday.
A revised schedule for Ben-my-Chree services has been announced as a combination of tidal conditions and a lack of agreed dredging at Heysham means there will be insufficient under keel clearance for the vessel to operate its planned sailings.
The following sailings have been rescheduled:
Friday:
Douglas to Heysham 8am will now leave at 9am.
Douglas to Heysham 7pm will now leave at 6.30pm
Saturday:
Douglas to Heysham 8.45am will now leave at 7.30am.
Sunday:
Heysham to Douglas 2.15pm will now leave at 2.45pm.
Monday
Heysham to Douglas 2.15am will now depart at 1am
All other services over the weekend will depart as scheduled.
Access to Heysham Port has been disrupted in the past due to a build-up of silt at the harbour entrance needing to be cleared. Issues caused by the silt are exacerbated at times of low tide water depths and can be affected by weather conditions
Steam Packet chief executive Mark Woodward said: 'It is deeply frustrating that our passengers are facing disruption due to essential dredging work not being completed as agreed.
'We and other operators who use Heysham have repeatedly called for a comprehensive and ongoing programme to ensure the removal of silt to avoid this problem. This week's survey, the results of which were announced only yesterday afternoon, has forced us to reschedule services due to insufficient depths of water available to safely use the port at our scheduled times.
'This causes unnecessary inconvenience to our passengers and freight customers due to circumstances beyond our control.
'This situation was anticipated by operators, who asked for action to be taken to avoid this situation. While dredging has now commenced the latest depth soundings show that it has failed to achieve the promised depth and we cannot be confident it will be completed before Friday to give sufficient under keel clearance for the vessel to operate safely.
'Therefore, to allow our customers some time to plan ahead we are announcing this revised schedule now and contacting any passengers affected.'
He added: 'The need for silt dredging at Heysham is an ongoing issue faced by all operators using the port but is perhaps more vital to the Steam Packet Company as the only operator of scheduled passenger services to Heysham. We will be raising this issue and asking Isle of Man Government to support our calls for action at Heysham Port to deliver what is necessary and what has been promised to ensure timely passenger services in future.'
Source: IOMToday