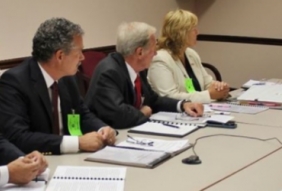 Posted on October 21, 2015
Cape May County Freeholder Marie Hayes and Cape May County Emergency Management Director Martin Pagliughi met with New Jersey Department of Environmental Commissioner Robert Martin in Trenton Oct. 13 to discuss challenges facing local municipalities, marinas and related businesses regarding dredging. During the meeting, Commissioner Martin and his staff accepted a report compiled by a working group chaired by Hayes and pledged cooperation to work through logistical and environmental issues that delay or prohibit dredging projects in our region.
"Commissioner Martin made it very clear to our working group that it is very important for municipalities, counties and stake holders to have a good, active plan with active permits to accomplish essential dredging operations in our back bays and marinas", Hayes said. "The Commissioner reviewed the report and stated that it is very helpful for his staff to develop common sense, science-based approaches to issues that can impede dredging projects in our county and throughout the state".
With the advice and consent of Commissioner Martin, Hayes and Pagliughi created a Dredging Working Group in 2014 consisting of engineers, scientists, environmentalists and business stakeholders to discuss all of the issues that delay or prohibit back bay dredging projects in our coastal areas. The final report was delivered during the meeting with Commissioner Martin and contains 21 recommendations to the NJDEP that address permitting, disposal of materials, and environmental regulations that in some cases make dredging projects impossible to implement. Commissioner Martin promised a continued dialogue in his office and tasked NJDEP Assistant Commissioner Ginger Kopkash and her staff to assist with these efforts. Another meeting will be held on Trenton with the NJDEP Dec. 10 to discuss solutions to various dredging issues.
Pagliughi also serves as the Mayor of Avalon; that Borough is currently in year two of a three year back bay dredging project with participation from Middle Township and the New Jersey Department of Transportation. "Our overall goal is to have a uniform permitting process and a science-based approach to protecting the environment", Pagliughi said. "Commissioner Martin has been very supportive of our efforts to assist coastal municipalities throughout the State with their necessary dredging projects".
Some of the recommendations included in the report provided to Commissioner Martin include:
– Revise the dredging permit application program by establishing a unified application that replaces the nine potential permit/approval programs impacting dredging
– Actively pursue database management of issues associated with defining and classifying waterways, confined disposal facilities, and known site conditions
– Expand the concept of living shorelines to include habitat restoration
– Identify and promote new and innovative ways to beneficially use appropriate dredged materials
-Restrictions based on season, geographic location or protected species must be supported by current science-based data that clearly and accurately document coastal environmental resources and/or conditions that justify limiting dredging activities
"It's very important for all of our coastal communities to have safe navigation for recreational and commercial boating interests", Hayes said. "The recreational boating industry creates nearly 18,000 jobs in New Jersey while generating over $1.1 billion in sales. Sensible dredging regulations are essential to maintain this vibrant economic engine along the coast".
Hayes and Pagliughi also pledged to arrange a visit to Washington, DC to meet with Congressman Frank LoBiondo and federal regulatory agencies to create a coordinated, unified regulatory approach that will satisfy the interests of the New Jersey Department of Environmental Protection and the United States Army Corps of Engineers.
Congressman LoBiondo will be a special guest speaker at a dredging forum being sponsored by the Cape May County Chamber of Commerce Oct. 19 at the Stone Harbor Golf and Country Club. Registration starts at 5:30 p.m. and the program starts promptly at 6 p.m. Hayes will be moderating the discussion panel.