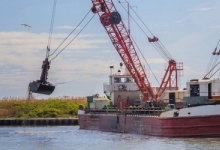 Posted on August 25, 2015
By Fred Lebrun, timesunion
Who will eventually perform the necessary additional navigational channel dredging in the Hudson River from the federal dam in Troy to Fort Edward has been a sticking point through all the contentious years of negotiations with General Electric over the removal of their PCB contamination of the same stretch of the waterway.
GE managed to dodge responsibility in the consent order with the Environmental Protection Agency that finally got us the removal of targeted sediments from 500 acres along 40 miles of river bottom.
The company can claim that once the billion dollar dredging operation is done this fall as anticipated, even though much contaminated sediment admittedly remains, General Electric has met its obligation.
READ FULL ARTICLE HERE