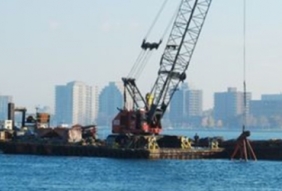 Posted on November 13, 2015
The tugs Erich R. Luedtke and Kurt Luedtke and several barges from Luedtke Engineering in Frankfort are dredging the shipping channel in the St. Clair River.
Lynn Rose, a spokeswoman for the U.S. Army Corps of Engineers, said the work could continue into 2016.
"We're at the beginning of the winter," she said. "I'm sure they will dredge as long as they can this year and finish up next year — but they could finish this year."
The contract with the Corps of Engineers calls for the company to remove 49,000 cubic yards of material.
On Thursday, the company was working just south of the mouth of the Black River. Crews removed several large trees from the river bottom.
Jon Keillor, project manager for Luedtke Engineering, said the company is dredging the Black River Shoal.
"It's a couple thousand feet long and extends upstream and downstream from the mouth of the Black River," he said. "We dredged it once before in 2010."
"It's just a natural shoal that forms there because there's a bend in the river."
Rich Kazor and Debbie Weaver, of Port Huron, were enjoying the spring-like temperatures along the Blue Water River Walk and watching the work.
"It's a beautiful day in November," Weaver said.
"I'm just watching them clean up the river a little," Kazor said. "They've been pulling up some trees and tires and mud — a little bit of everything."
The channel will be dredged to a depth of 27.4 feet.
The amount of the contract is $581,900, Rose said.