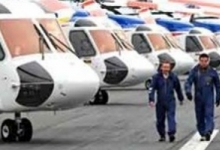 Posted on August 15, 2015
By Chinedu Eze and Chiemelie Ezeobi
A Bristow Sikorsky S-76 helicopter with registration number 5N-BDG-760540 yesterday crashed in the lagoon bordering Oworonsoki, a suburb in Lagos, with 12 persons on board.
The helicopter crash resulted in the death of four people whose bodies were recovered, the rescue of six others who were rushed to hospitals, and two others who had still not been found at press time.
According to the Nigerian Civil Aviation Authority (NCAA), the helicopter crashed en route from an oil rig.
READ FULL ARTICLE HERE