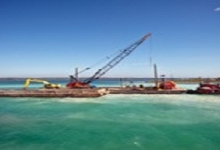 Posted on August 15, 2015
The Foth Companies (Foth) was recently presented with a WEDA (Western Dredging Association) Environmental Excellence Award at the organization's annual Summit and Expo in Houston, Texas. The awards are given annually to the most innovative dredging projects that effectively incorporate stakeholder outreach and create notable environmental and economic benefits. In the Navigation Dredging category, the Silver Award was granted to the project team of Foth; the Town of Washington, Wis.; Washington Island Ferry Line; and Roen Salvage Company for the Detroit Harbor Navigation Channel Dredging and Expansion Project by Washington Island.
The project was initiated due to low water levels in Lake Michigan. The shallow water made it increasingly difficult for the ferry to navigate the channel between the Door County peninsula and Washington Island, and jeopardized the economic lifeline of Washington Island. In addition, island residents were at risk of being stranded if the channel was not dredged in a short time period as the ferry was reaching within a foot of the bottom.