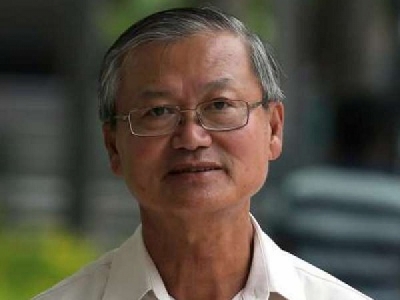 Mok Kim Whang
Posted on September 29, 2016
A former executive at shipbuilder ST Marine implicated in one of the largest corporate graft scandals in Singapore was on Monday (Sept 26) sentenced to 20 weeks' jail and a $100,000 fine.
Mok Kim Whang, 65, who was the company's senior vice-president from June 2000 to July 2004, is the third of seven former ST Marine senior executives charged in the case to be sentenced. He is the second to be given a jail term.
He had earlier pleaded guilty to 50 out of 827 charges: one of graft and 49 of falsification of accounts.
The remaining 777 charges – all for falsification of accounts – were taken into account in sentencing.
Deputy Presiding Judge of the State Courts Jennifer Marie noted that Mok did not pocket any money, but had continued a pre-existing practice at ST Marine to pay bribes to its customers' employees, and to cover up the kickbacks with a false paper trail.
Among other things, she also noted that Mok had pleaded guilty, was remorseful, and that "for an older person … the shame of going to prison is indeed a grave punishment".
Said the judge: "This sentence adequately recognises the need to send a strong signal to deter like-minded offenders that there are painful consequences that will flow from weak willed corporate executives.
"Where there is a case of such rampant disregard of the law, it will be incumbent on senior officers to take a stand and if it is not possible to put an end to such illegal activities – then they should part company or the industry to report the activities to the authorities," the judge added.
ST Marine staff had been using cash bribes to get business since 2000, with the approval of its senior management team. The company is a subsidiary of blue-chip engineering giant ST Engineering.
ST Marine's records showed that at least $24.9 million in kickbacks were paid between 2000 and 2011.
Employees of ST Marine's customers, mainly overseas companies, would request "commissions" for giving ship-repair contracts and other business to the company.
After getting approval from ST Marine's senior management, an employee would submit petty cash claims for "entertainment expenses". Cash cheques issued for these claims would be encashed, and the amount given as a kickback.
Deputy Public Prosecutor (DPP) G. Kannan had asked for six months' jail and a $100,000 fine. He noted that Mok was personally involved in raising and approving a total of 826 false petty cash vouchers involving a total of nearly $3.14 million paid out in claims.
"The amounts and number of offences involved are staggering and must be punished with a sufficiently lengthy term of imprisonment," he said.
The case had also caused public disquiet and damaged Singapore's reputation, DPP Kannan added.
Mok's lawyer, Senior Counsel Tan Chee Meng, meanwhile asked for three to four month's jail.
Said Mr Tan: "When Mr Mok first started working in ship repair at the age of 16, some 49 years ago, he learned that commission payments for ship repair works were commonplace in the industry. To him, these payments were a prevalent practice used to facilitate business in the industry."
Mok started work as an apprentice with the British Navy in Singapore in 1967, eventually moving on to renowned companies such as Keppel Shipyard and Pan-United Shipyard, the court heard.
He joined ST Marine in June 2000 and oversaw the company's Tuas Yard commercial projects, turning it profitable in just one year.
Mok will start his sentence on Wednesday (Sept 28).
Source: Straits Times