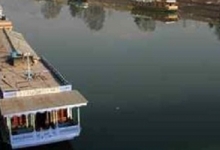 Posted on August 25, 2015
By Gul Owais, The Kashmir Monitor
Srinagar: As September 2014 floods are about to complete one year, the government has not yet started the much awaited dredging process of river Jhelum in Srinagar, a move which was deemed as necessary for building a preventive mechanism against such catastrophe in future.
Earlier, the reports suggested that the authorities would start the process by June 1st of this year but for 'unknown reasons', the process was delayed since then.
Sources told The Kashmir Monitor that the Irrigation and Flood Control Department despite availability of funds were delaying the process by one way or another for some unknown reasons. "It was earlier decided by the higher ups to start the process by June 1st but the authorities delayed the process," sources said.
Talking to The Kashmir Monitor, Shakil Ahmad Romshoo, Senior Geologist at University of Kashmir said that it is impossible for the government to send a dredger in the river Jehlum to start the process till ending September as the water level during this period remains high.
READ FULL ARTICLE HERE